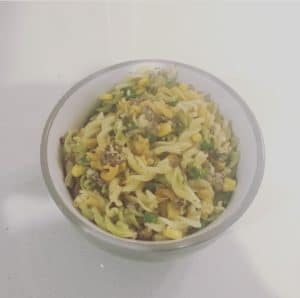 Pasta stir fry
Makes enough for one; Multiply quantities for more.
A delicious filling but no-frills meal that I love after a long day at work and demanding ballet class!
Pasta of your choice.
Mince beef. Beef should be at least 4 stars and 'heart smart' but you can also use a vegetarian protein substitute
One large egg
One clove of garlic
A teaspoon of butter
A tablespoon of grated parmesan
150g peas and corn
Cook pasta and set aside.
Lightly whisk egg and set aside.
Brown mince and garlic in large flat wok or high-walled frying pan.
Add peas, corn and butter to mince. Change heat to low. Stir until butter has melted.
Add pasta, egg and parmesan.
Mix together until egg is scrambled.
BY ALEXANDRA M – ELANCÉ AMBASSADOR