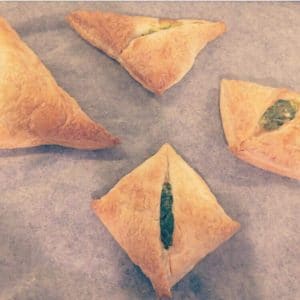 One sheet of puff pastry
A handful of baby spinach, chopped
A tablespoon of feta
One egg
One clove of garlic (optional)
Pre-heat oven to 180 degrees.
Lightly whisk egg.
Add spinach, feta and garlic.
Stir until combined.
Cut pastry sheet into four parts (you can get creative with the shapes!)
Divide mixture between each pastry piece. Wrap the mixture and seal by pressing the pastry sides.
Place the pastries on baking paper. Cok on 160 degrees for 10-15 minutes until golden brown on top.
Best served warm.
Makes 4 small serves.