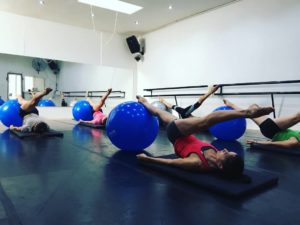 PBT is on the Elancé timetable, hooray! But wait, what exactly is it? Read on to learn more about this specialised conditioning program and how it can help you in your weekly ballet class.
What Is PBT?
PBT stands for Progressing Ballet Technique. PBT is a conditioning program that has been designed specifically for dancers by Marie Walton-Mahon, a highly regarded dance educator with over 40 years of teaching experience. PBT was developed with the idea of empowering students to create their own safe dance experience and achieve their personal best within their ballet technique. PBT uses muscle memory to improve core stability, weight placement, and alignment. You can learn more about Marie and the PBT story here.
What Does PBT Look Like From A Practical Perspective?
PBT uses equipment to help develop an understanding of your body in space whilst strengthening your ballet technique. All of the PBT exercises are done with music, so the dancer's musicality is kept and enhanced. It also means that when you stand and put the muscle work into your ballet movements the connection with music won't be an 'add-on', but integral to the way you move.
The main apparatus we will use is a fit ball. The use of the fit ball improves your proprioception, which is your body's understanding of where you are in space. Another way of thinking about proprioception is that it's the small wobbles that your body does to maintain balance. Of course, we don't want the wobbles in ballet (!) so by using the ball we learn what muscles to engage to provide stability.
You will develop a repertoire of exercises; some that correlate to ballet steps and others for posture and general placement. Many of the PBT exercises are lying on your back with your legs on the fit ball and your body lifted in a plank position. The immediate feedback (the wobbles!) from the fit ball gives you an understanding of how much work we need to do just to stand upright in the ballet studio! Other equipment for PBT includes a Theraband to provide resistance and pressure, and a smaller ball to help engage the inner thigh squeeze!
PBT Sounds A Bit Daunting! How Will My Adult Body Cope?
As with any new technique introduced for our adult ballet students, PBT will be delivered through a steady approach with lots of support and guidance. You will build strength through your body in a progressive way that is manageable for your stage of learning. The PBT class will be built on week by week with progressions when appropriate.
How Does PBT Differ From Pilates?
Pilates is an excellent companion technique for ballet and no teacher would discourage you from doing it. PBT is different in that it has been designed specifically for ballet – every exercise has a ballet purpose. The PBT classes for Elancé students will have built-in opportunities to stand and immediately put the muscle work into a practical ballet sense. Often with a companion technique, it can become abstract, as the muscle work isn't put into action straight away meaning that some of the valuable work has been lost.
Will I See Immediate Results?
You will FEEL immediate results! The muscles that will be engaged in your PBT class often don't get enough of a work out during ballet class! This is mainly due to being unaware of how to engage them properly. PBT will give you a greater understanding of how ballet technique works for your body. It's like personalising ballet to fit you. PBT will help you to understand how your ballet muscles work and give you an awareness of what safe ballet technique feels like.
Our adult bodies are all different, and we are dancing for the love of ballet and how it feeds our creativity. PBT will help you to embrace your individuality within ballet technique and allow you to practice in a safe and consistent way.